The Federal Reserve's recent interest rate hike has significantly strengthened the US dollar, leading to a weakening of asset classes with the USD as their paired currency. However, the outcome of the Fed's upcoming meeting, scheduled for tomorrow, will play a significant role in determining the future direction of the BTCUSD pair.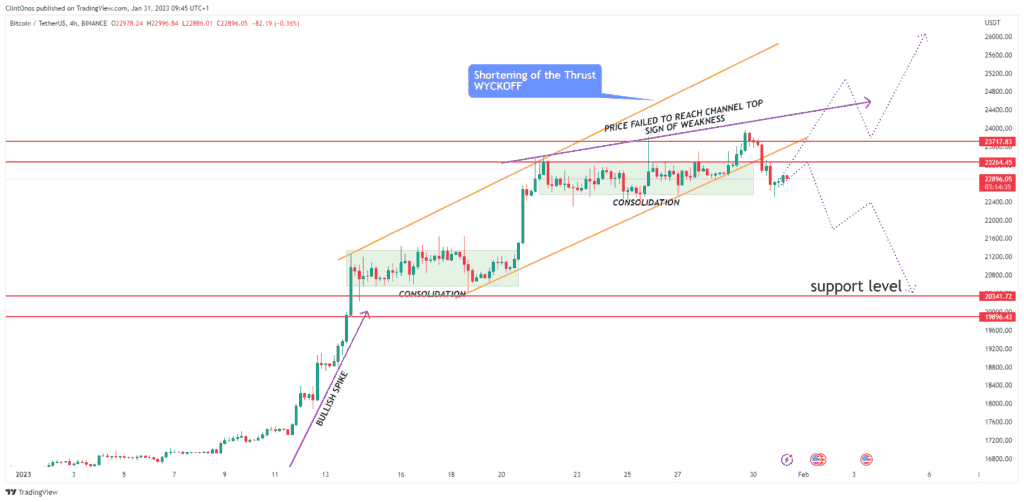 As of the latest reports, Bitcoin is currently experiencing a sell-off due to profit-taking at the 23200 and 23700 price range. This can be seen as a sign of weakness, as the price failed to reach the top level of the uptrend channel, signaling a shorting of the thrust. This is a concept within Wyckoff's analysis, which is used to identify signs of market weakness.
Recommend: GBP/USD pair H4 Bearish Bias Outlook
Given the expected slowdown in the Fed's interest rate hike, the market is anticipating a further bullish scenario for the BTCUSD pair. However, it is also expected to observe a brief bearish correction before continuing its upward trend. In addition, it is important to keep an eye on the 20000 price level as it may provide possible support in the future.
FX Weekly Price Forecast: 30th Jan – 3rd Feb, GBP/USD, EUR/USD, and DXY