The Forex market is a dynamic and fast-paced arena, and keeping track of all the different factors that affect currency prices can be challenging. In this article, we'll take a closer look at the EURUSD H1 chart and explore the reversal signals it's sending. This idea is a follow-up of The EURUSD Forex Pair 4H tF Market Outlook, so do well to check it out.
EUR/USD H1 chart
First, let's talk about the head and shoulder pattern formed on the EUR/USD H1 chart. This pattern is often used by traders to signal a potential reversal in the price trend. In this case, the EURUSD pair has shown this pattern, which suggests that the trend is likely to reverse at the level noted on the EU H4 timeframe.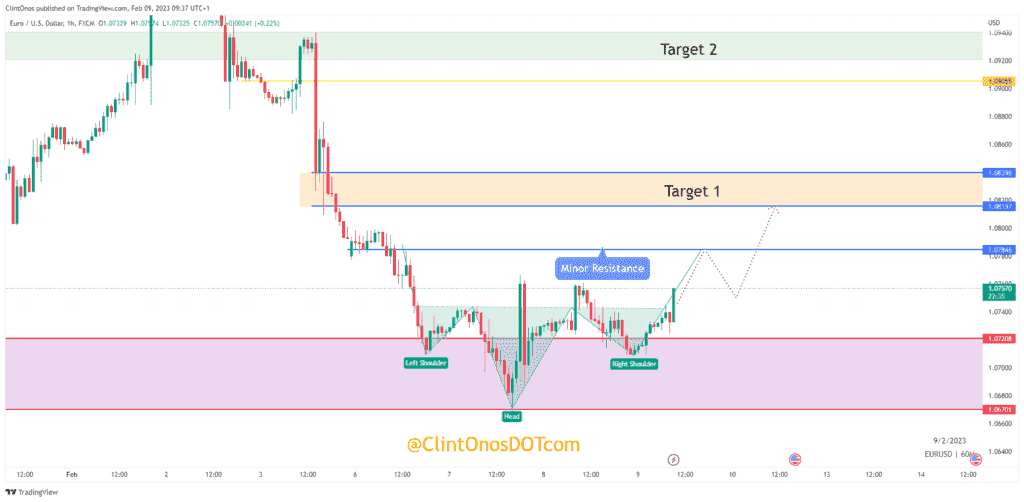 Now, as traders, we want to anticipate where the price will go next. In this case, it's likely that the EUR/USD will trade back to target 2 after reaching target 1 around 1.08157 and 1.08396. However, it's essential to keep in mind that there is minor resistance at the 1.07846 price level, so traders should be aware of this as well.
UK GDP Report
Another factor to keep in mind is that tomorrow the UK is set to release its GDP report an hour before the London session opens. This is a significant event that is likely to cause volatility in the Forex market. As such, traders should be prepared for increased price fluctuations and keep a close eye on the market to avoid surprises.
In conclusion, the EURUSD H1 chart is sending clear signals of a potential reversal in the trend, and traders should be aware of the resistance levels and upcoming economic events that could impact the market. As always, it's important to stay informed and have a well-thought-out trading strategy in place.
Stay tuned for more updates and analysis, and don't forget to comment and share this idea and follow us for more insights and information.
New York Session Market Review (GBPUSD, EURUSD & DXY) 070223