The GBPUSD pair is moving in a bullish direction, but a pullback or correction is likely to happen. Our previous target of 1.24233 has been reached, but it is important to look ahead and consider new factors that may impact the cable pair. See last week's prediction here GBPUSD (Cable) H4 Bullish Outlook! will this happen next?
In the upcoming trading week, there are several events that could cause volatility in the GBPUSD pair, despite the Chinese New Year holidays. ForexFactory data shows that market participants are expecting the release of the Flash Manufacturing PMI for the United Kingdom and the United States on Tuesday, as well as Advance GDP q/q and Core PCE Price Index reports for the US on Thursday and Friday respectively.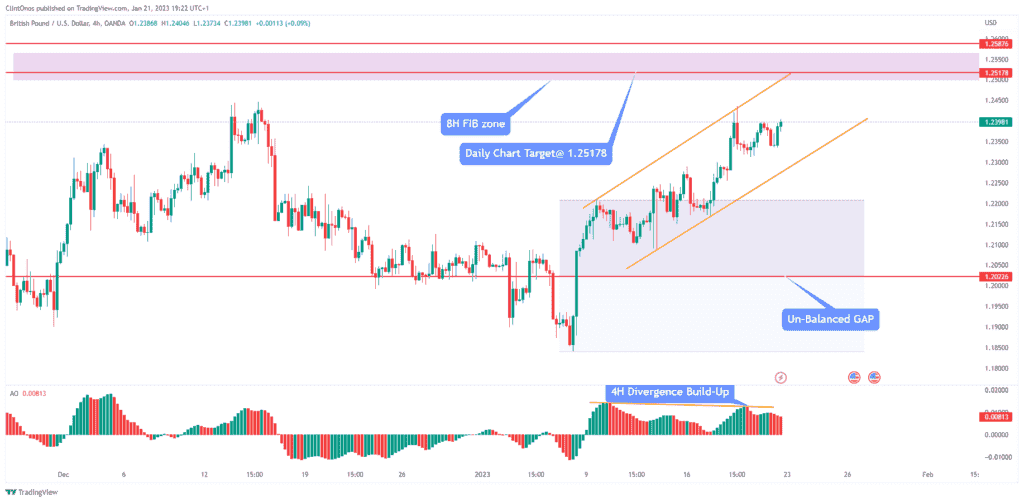 GBPUSD pair May experience high volatility
Given the market's anticipation of these high-impact news releases, it is likely that the GBPUSD pair will experience high volatility on these days. The pair is expected to reach for liquidity above the high of 1.24468 on December 14th, 2022. As shown in the chart, traders should also look for reversal patterns for possible retracements and price action balance around the 1.20226 and 1.20000 psychological levels.
This is a potential trading idea, but it's important to conduct your own research and analysis before making any trades. As always, it's a good idea to manage your risk and have a clear plan in place before entering any trade.
What's your opinion on this idea? Please share with me in the comment section below, and also like and follow for more updates. I wish you all a profitable trading or investing journey.