As a helpful assistant, I have seen many people interested in creating an e-book for money. With the rise of the digital age, e-books have become a popular way to monetize content and generate passive income. In this ultimate guide, I will take you through the steps to create an e-book that generates money. Whether you are an experienced blogger or new to the world of passive income, this guide will provide you with the tools you need to create a successful e-book.
This guide is the seventh in the 101 passive income ideas series. You can read Earn Money: How to Create a Blog for Passive Income which is the sixth in the series. Now that you're up to speed, let's get started!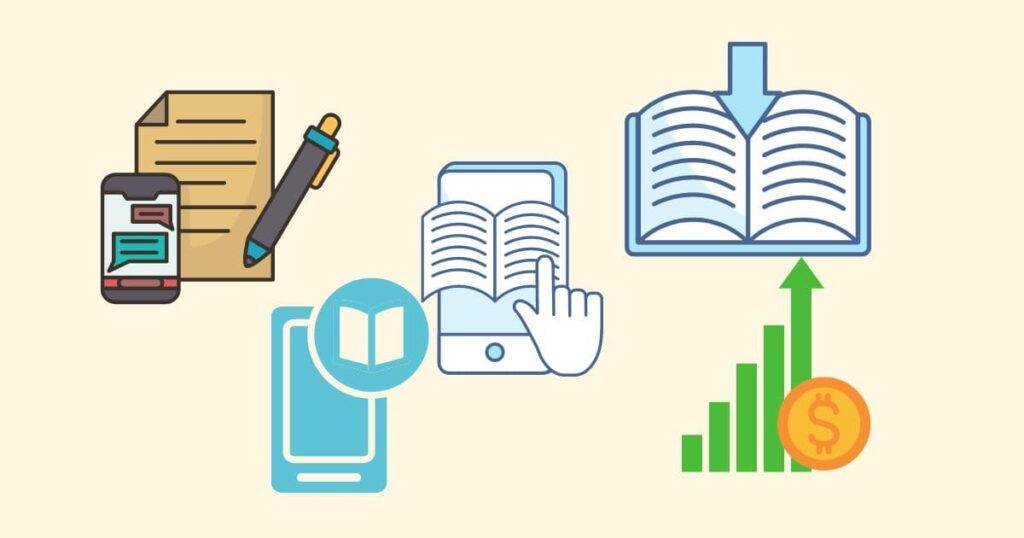 Why write an e-book?
E-books have become increasingly popular in recent years, and for good reason. They offer a convenient and cost-effective way to share your knowledge and expertise with a wide audience. Unlike traditional print books, e-books can be easily distributed and sold online, reaching readers all over the world. Plus, they can be updated and revised easily, allowing you to keep your content fresh and relevant.
Another advantage of e-books is that they can be created quickly and inexpensively. You don't need a publisher or a printing press to get your book into readers' hands. All you need is a computer and some basic software, and you can start writing and publishing your e-book right away.
Perhaps most importantly, e-books offer a great opportunity to establish yourself as an expert in your field. By sharing your knowledge and insights, you can build your reputation and attract new clients or customers. And if your e-book is successful, it can provide a steady stream of passive income for years to come.
Choosing your e-book topic
Once you've decided to write an e-book, the first step is to choose your topic. Ideally, your topic should be something you're passionate about and have a lot of knowledge or expertise in. It should also be something that's in demand and has a market of potential readers who are interested in learning more.
To find the right topic, start by brainstorming a list of ideas. Think about what you're knowledgeable about, what you're passionate about, and what topics are in demand in your industry or niche. You can also do some research to see what other e-books are currently popular and what topics are trending.
Once you have a list of potential topics, narrow it down to the one that you're most excited about and that you feel will be the most valuable to your audience. Remember, your e-book should provide real value to your readers and help them solve a problem or achieve a goal.
Conducting research and gathering content
Once you've settled on your topic, it's time to start researching and gathering content. This is where you'll start to flesh out your ideas and develop the structure and content for your e-book.
Start by doing some preliminary research to get a sense of what's already out there on your topic. This will help you avoid duplicating content and ensure that your e-book offers something new and valuable to your readers. You can also use this research to gather ideas and inspiration for your own e-book.
Next, start gathering content for your e-book. This might include original writing, research, case studies, interviews, or other forms of content. Make sure to organize your content in a logical and easy-to-follow structure, so that your readers can easily navigate and understand your e-book.
Outlining your e-book
With your research and content in hand, it's time to start outlining your e-book. This is where you'll start to develop the structure and flow of your e-book, and organize your content into chapters, sections, or other logical groupings.
Your outline should include a clear and concise summary of your e-book's main themes, as well as a detailed breakdown of each chapter or section. Make sure to include headings, subheadings, and bullet points where appropriate, to make your outline easy to read and understand.
Your outline will serve as a roadmap for your e-book, helping you stay focused and on track as you write. It will also help you identify any gaps in your content or areas that need further research or development.
Writing your e-book
With your outline in place, it's time to start writing your e-book. This is where the real work begins, and where you'll need to exercise your writing and editing skills to create a polished and engaging final product.
Start by writing a rough draft of each chapter or section, using your outline as a guide. Don't worry too much about getting everything perfect at this stage; just focus on getting your ideas down on paper.
Once you have a rough draft, it's time to start editing and revising. Go through each chapter or section carefully, looking for ways to improve clarity, organization, and flow. Remove any unnecessary or repetitive content, and make sure that your writing is concise and to the point.
Finally, proofread your e-book carefully for spelling, grammar, and punctuation errors. You may also want to have a friend or colleague read through your e-book to provide feedback and catch any errors you might have missed.
Editing and proofreading your e-book
Once you've written your e-book, it's time to edit and proofread it. This is a critical step in the process, as it will ensure that your e-book is polished and error-free before you publish it.
Start by going through your e-book carefully, looking for any areas that need improvement. This might include reorganizing content, cutting unnecessary sections, or adding more detail where needed.
Next, proofread your e-book thoroughly for spelling, grammar, and punctuation errors. You can use automated tools like Grammarly or Hemingway to help catch errors, but it's always a good idea to have a human proofreader as well.
Finally, make sure that your e-book is formatted correctly and is easy to read on a variety of devices. You may need to adjust font sizes or margins, or convert your e-book to different file formats to ensure compatibility with different e-readers.
Designing your e-book cover
Your e-book cover is the first thing that readers will see, so it's important to make a good impression. Your cover should be eye-catching, professional, and relevant to your topic.
If you have design skills, you can create your own e-book cover using software like Adobe Photoshop or Canva. Alternatively, you can hire a professional designer to create a custom cover for you.
When designing your cover, make sure to use high-quality images and fonts, and keep your design simple and uncluttered. Your title and author name should be prominently displayed, and any additional text or graphics should be relevant and support your overall theme.
Formatting your e-book
Formatting your e-book is an important step in the publishing process, as it will ensure that your e-book is readable and accessible on a variety of devices. There are a few key formatting considerations to keep in mind when creating your e-book.
First, choose a file format that's compatible with most e-readers, such as EPUB or MOBI. You can use software like Calibre to convert your e-book to different file formats if needed.
Next, make sure that your e-book is properly formatted for readability. This might include adjusting font sizes or margins, using headings and subheadings to break up your content, and adding images or graphics where appropriate.
Finally, make sure that your e-book is optimized for search engines, by including relevant keywords in your title, description, and content.
Recommend: Learn to Earn Youtube Channel
Pricing and publishing your e-book for Money
Once your e-book is written, edited, and formatted, it's time to publish and price it. There are a few key decisions to make in this process, including where to publish your e-book and how much to charge for it.
There are a number of e-book publishing platforms available, including Amazon Kindle Direct Publishing, Barnes & Noble Press, and Apple Books. Choose the platform that's most appropriate for your audience and that offers the best royalties and distribution options.
When setting your price, consider your audience, your competition, and the value that your e-book provides. You may want to experiment with different pricing strategies, such as offering a free sample or discount to attract new readers.
Marketing and promoting your e-book
Once your e-book is published, it's time to start marketing and promoting it. This is where you'll need to tap into your digital marketing skills to get the word out and attract readers.
Start by creating a marketing plan that outlines your goals, target audience, and promotional tactics. This might include social media marketing, email marketing, content marketing, and paid advertising.
You can also reach out to bloggers, influencers, and other thought leaders in your industry to help promote your e-book. Offer them a free copy in exchange for an honest review or endorsement, or ask them to share your e-book with their audience.
Finally, track and analyze your e-book sales and marketing efforts, using tools like Google Analytics or Amazon Sales Dashboard. This will help you identify areas for improvement and adjust your marketing strategy accordingly.
Tracking and analyzing your e-book sales
Once your e-book is published and promoted, it's important to track and analyze your sales to see how well it's performing. This will help you identify areas for improvement and make adjustments to your marketing strategy.
Use tools like Google Analytics or Amazon Sales Dashboard to track your sales and monitor your marketing efforts. Look for trends and patterns in your sales data, and identify any areas where your e-book is underperforming.
You may also want to collect feedback from your readers, either through reviews or surveys, to get a sense of how well your e-book is being received. Use this feedback to make improvements to your content, marketing, or pricing strategy.
E-book distribution options
In addition to publishing your e-book on a single platform, you can also explore other distribution options to reach a wider audience. This might include offering your e-book on multiple platforms, or using a service like Smashwords or Draft2Digital to distribute your e-book to a variety of retailers.
You can also consider offering your e-book for sale on your own website, using a platform like Shopify or WordPress to set up an e-commerce store. This will give you more control over your sales process and allow you to keep a larger share of your profits.
Conclusion
Creating and selling your own e-book can be a rewarding and profitable experience, but it does require some planning, effort, and skill. By following the steps outlined in this guide, you'll be well on your way to creating a successful e-book that showcases your expertise and generates a steady stream of income. So, what are you waiting for? Start writing your e-book today and take the first step towards becoming a published author!