The SPX500 is currently showing an upward trend as traders await the outcome of the Federal Reserve's interest rate hike meeting scheduled for tomorrow. The result of the meeting is expected to have a significant impact on the price of the SPX500 asset class. The current price is trading at a crucial support level of 4000, which is also considered a round number and is referred to as a psychological level by many traders.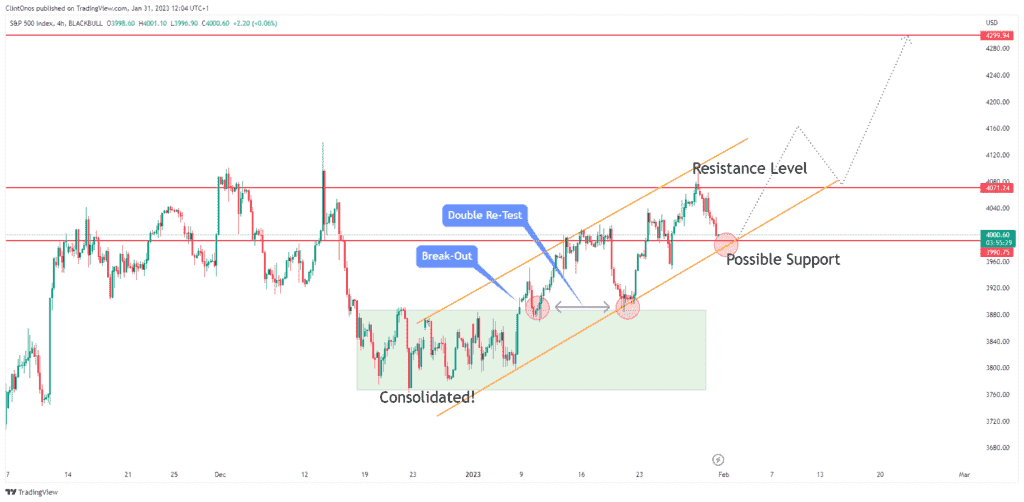 In my opinion, the correction will be short-lived, and the price will resume its bullish movement. However, the stability of the support levels around 4000 and 3990 depends on various factors, including the Fed's interest rate decision. If the Fed decides to hike rates by 25 basis points, the market is likely to adopt a bearish outlook for the US dollar. On the other hand, if the price breaks through the support levels of 4000 and 3990, it is highly probable that the price will retest the top of the consolidation breakout for the third time.
Recommend: BTCUSDT: Bitcoin Likely to Continue Bullish After Correction
In conclusion, it is essential to keep a close eye on the levels discussed above. I would appreciate your thoughts and support on this idea. As always, thank you for your time.
Pre-London Session Market Commentary: GBPUSD, EURUSD and DXY