In the fast-paced world of digital content creation, freelance editors play a vital role in ensuring the quality and effectiveness of written materials. One specific type of freelance editing that holds significant importance is content editing.
In this comprehensive guide, we will explore the ins and outs of content editing as a freelance endeavor, shedding light on its essential aspects, challenges, strategies, and more.
Key Takeaways
1. Freelance content editors play a crucial role in shaping and enhancing written content for maximum impact.
2. Language proficiency, critical thinking, attention to detail, communication, and adaptability are essential skills for freelance content editors.
3. Challenges such as dealing with inconsistent information, maintaining consistency, balancing technicality and accessibility, and handling subjective content can be overcome through effective strategies.
4. Collaboration with clients, providing constructive feedback, maintaining confidentiality, and respecting the author's voice are crucial aspects of freelance content editing.
5. Utilizing tools, staying updated with industry trends, setting appropriate pricing, specializing in niches, and employing effective marketing strategies contribute to a successful freelance content editing career.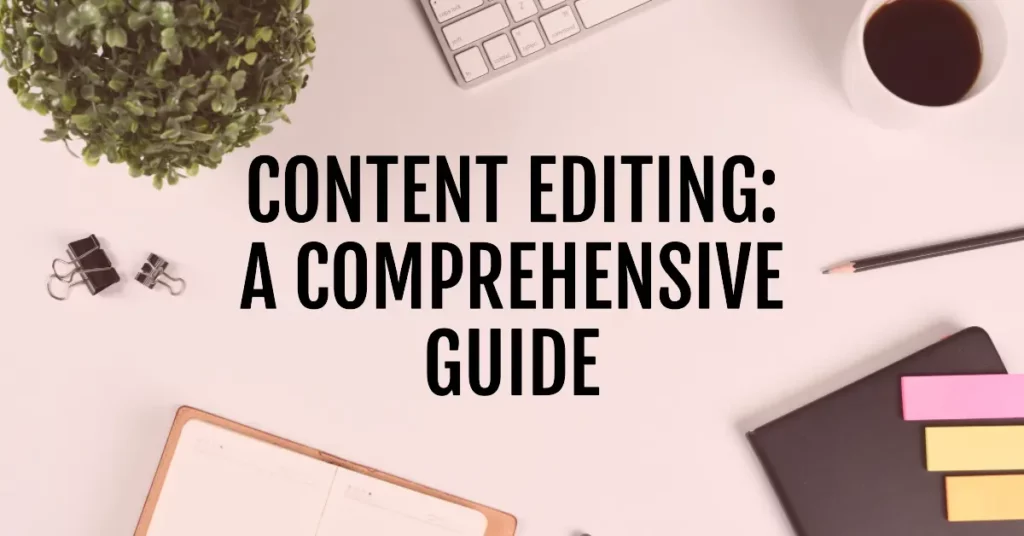 The Role of a Content Editor in Freelance Editing
At the heart of content editing lies the responsibility of shaping written content into its best version. As a freelance content editor, your role extends beyond mere proofreading and basic editing tasks. You act as a guardian of quality, ensuring that the message is conveyed effectively to the target audience. By understanding the nuances of language, structure, and coherence, you enhance the overall impact of the content, making it more engaging, informative, and persuasive.
Recommend: Line Editing in Freelance Writing: How to Improve Your Craft and Make Passive Income
Essential Skills for Freelance Content Editors
To excel as a freelance content editor, several key skills are essential for success. Let's explore these skills:
Language Proficiency and Grammar Expertise: A strong command of language, including grammar, punctuation, and syntax, is crucial. It enables you to spot errors, maintain consistency, and improve readability.
Critical Thinking and Analytical Skills: As a content editor, you need to analyze written materials critically. This involves evaluating the logical flow, identifying gaps or inconsistencies, and suggesting improvements.
Attention to Detail and Keen Eye for Errors: Meticulousness is a hallmark of a great content editor. You must possess an eagle-eyed focus to catch even the tiniest errors, ensuring a polished final product.
Communication and Collaboration Abilities: Freelance content editors often work closely with authors, writers, and clients. Strong communication skills facilitate effective collaboration, understanding client requirements, and providing constructive feedback.
Adaptability and Ability to Work with Various Genres and Industries: As a freelance content editor, you may encounter diverse content across multiple industries. The ability to adapt and work with different genres, styles, and subject matters is essential.
Challenges Faced by Freelance Content Editors
While content editing can be a rewarding freelance career, it is not without its challenges. Let's delve into some common hurdles faced by freelance content editors and how to overcome them:
Dealing with Inconsistent or Inaccurate Information: Content editing requires fact-checking and ensuring the accuracy of information presented. When faced with inconsistencies, it's important to communicate with the author or client to clarify and rectify any inaccuracies.
Addressing Grammatical Errors and Proper Language Usage: Correcting grammatical errors and ensuring adherence to proper language usage are crucial tasks for freelance content editors. Utilize grammar resources and style guides to maintain consistency throughout the content.
Maintaining Consistency in Style, Tone, and Terminology: Consistency is key to delivering a professional and coherent piece of writing. Pay attention to the chosen style, tone, and terminology, and create a style guide if necessary to ensure uniformity.
Balancing Technicality and Accessibility in Content Editing: Depending on the target audience and the subject matter, freelance content editors must strike a balance between technicality and accessibility. Ensure that complex concepts are explained clearly and concisely without losing the intended depth of information.
Handling Subjective or Opinion-Based Content: When editing content that involves subjective opinions, it's important to maintain neutrality and respect the author's voice. Focus on enhancing clarity, coherence, and logical arguments without imposing personal biases.
By being aware of these challenges and applying appropriate strategies, freelance content editors can overcome obstacles and deliver high-quality work.
Strategies for Effective Content Editing
Now that we have explored the challenges, let's dive into some effective strategies for content editing as a freelance editor. These strategies will help you enhance the clarity, coherence, and overall impact of the written content:
Enhancing Clarity and Coherence in Written Content: Clear communication is paramount in content editing. Simplify complex ideas, eliminate jargon or ambiguity, and ensure a smooth flow of ideas from one paragraph to the next.
Verifying Facts and Conducting Thorough Fact-Checking: Fact-checking is a crucial aspect of content editing. Double-check all information, cite reliable sources, and ensure the accuracy of data and statistics presented.
Assisting in Adapting Content for Different Mediums and Platforms: In the digital age, content is often repurposed for various mediums and platforms. Collaborate with authors to optimize content for different channels, such as websites, social media, or print publications.
Ensuring a Consistent Brand Voice: When working on content for businesses or organizations, maintaining a consistent brand voice is essential. Familiarize yourself with the brand's tone, style, and messaging to align the edited content accordingly.
Improving Readability and Flow through Effective Editing Techniques: Focus on enhancing the overall readability of the content. Break down lengthy sentences, use transitional phrases to connect ideas smoothly, and ensure a logical progression of thoughts.
By applying these strategies, freelance content editors can elevate the quality of written content and make it more impactful for the intended audience.
Recommend: Best Developmental Editing: Elevating Your Manuscript to New Heights
Collaborative Approach and Client Feedback
Freelance content editing often involves close collaboration with authors, writers, and clients. Here are some important considerations for fostering effective collaboration and incorporating client feedback:
Providing Constructive Feedback to Clients: When providing feedback, always strike a balance between pointing out areas for improvement and acknowledging the strengths of the content. Use tactful language and offer suggestions for enhancement.
Addressing Conflicting Instructions or Feedback from Multiple Clients: In situations where you receive conflicting instructions or feedback from different clients, open up a dialogue to understand their priorities and preferences. Seek clarification to align your editing approach accordingly.
Assisting Authors in Maintaining Their Unique Writing Style: As a content editor, respect the author's individual writing style and voice. Focus on enhancing their strengths and providing guidance to refine their style, rather than imposing your own preferences.
Handling Sensitive or Controversial Topics with Professionalism: Freelance content editors may encounter content that touches upon sensitive or controversial subjects. Approach such topics with professionalism, ensuring unbiased editing while maintaining respect for differing perspectives.
Maintaining Confidentiality and Data Security in Freelance Content Editing: As a freelance content editor, it's crucial to uphold confidentiality and data security. Treat the content and related information with utmost care, adhering to any non-disclosure agreements or confidentiality clauses.
By fostering effective collaboration and incorporating client feedback, freelance content editors can ensure client satisfaction and deliver content that meets the desired objectives.
Tools, Resources, and Professional Development
To excel as a freelance content editor, leverage various tools, resources, and opportunities for professional development. Here are some considerations:
Commonly Used Tools and Software for Freelance Content Editing: Explore a range of tools and software available for editing, proofreading, and enhancing productivity. Examples include grammar checkers, style guides, project management platforms, and communication tools.
Staying Updated with Industry Trends and Best Practices: The field of content editing is dynamic, with evolving trends and best practices. Stay informed by regularly reading industry blogs, attending webinars or conferences, and participating in professional communities.
Pricing Models and Considerations for Freelance Content Editors: Determine your pricing structure based on factors such as experience, expertise, project complexity, and market demand. Research industry standards and tailor your pricing accordingly.
Benefits of Specializing in Specific Niches: Consider specializing in specific niches or industries. By developing expertise in a particular domain, you can differentiate yourself in the freelance market and attract clients seeking specialized content editing services.
Effective Marketing Strategies for Freelance Content Editors: Market your freelance content editing services by establishing an online presence through a professional website, utilizing social media platforms, and networking with potential clients or industry professionals.
By leveraging tools, staying updated, pricing your services appropriately, specializing in niches, and employing effective marketing strategies, you can elevate your freelance content editing career.
Conclusion
Content editing as a type of freelance editing holds immense value in the realm of digital content creation. Through this comprehensive guide, we have explored the role of freelance content editors, essential skills, challenges, effective strategies, collaboration with clients, and professional development considerations. By applying these insights and continuously honing your editing skills, you can thrive in the competitive freelance market and contribute to the creation of impactful written content.