In today's digital era, Print on Demand (POD) has emerged as a popular business model for entrepreneurs looking to create and sell custom products online. Whether you're an artist, designer, or simply someone with a creative idea, POD allows you to bring your vision to life without the need for upfront inventory or manufacturing costs.
This comprehensive guide will walk you through every step of the Print on Demand process, from getting started to scaling your business. So, let's dive in and explore the exciting world of Print on Demand!
Takeaway
Choose the right Print on Demand platform for your business.
Create compelling and high-quality designs to attract customers.
Optimize your Print on Demand store for search engines and mobile devices.
Implement effective marketing strategies to promote your products.
Price your products competitively and focus on profitability.
Expand your business internationally by considering shipping and customs regulations.
Scale your Print on Demand business through partnerships, collaborations, and continuous improvement.
Comply with intellectual property laws and protect your designs.
Address common challenges promptly and provide excellent customer service.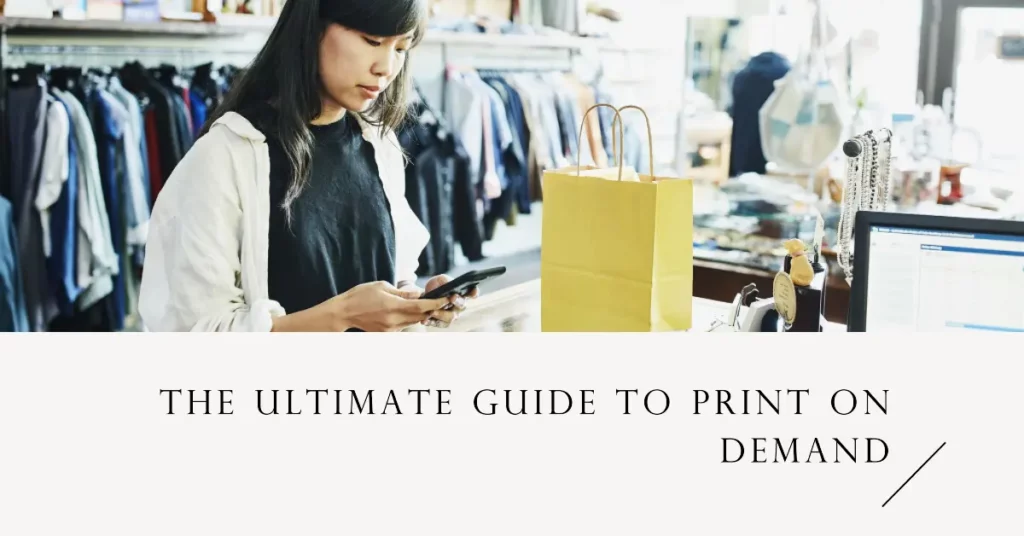 Getting Started with Print on Demand
Starting a Print on Demand business requires careful planning and strategic decision-making. Here's a step-by-step guide to help you embark on this entrepreneurial journey:
Define Your Business: Clarify your goals, target audience, and unique selling proposition (USP). Identify the niche or market segment you want to focus on.
Choose the Right Print on Demand Platform: Research and compare different POD platforms based on their features, pricing, customer support, and integration options with e-commerce platforms.
Designing Custom Products: Invest time in creating appealing and marketable designs. Consider the trends, customer preferences, and visual aesthetics of your target audience.
Market Research: Conduct thorough market research to understand the demand for your custom products and identify potential competitors. Analyze customer reviews and feedback for insights.
Pricing Strategy: Determine the pricing for your products by considering factors such as production costs, profit margins, market trends, and competitive analysis.
Designing Custom Products for Print on Demand
Designing captivating and unique products is crucial for attracting customers and standing out in a crowded market. Here are some best practices to keep in mind:
Research Your Target Audience: Understand the preferences, interests, and pain points of your target audience. Tailor your designs to resonate with their needs and aspirations.
Create Compelling Designs: Use design software or hire a professional designer to bring your ideas to life. Experiment with colors, typography, and imagery to create visually striking designs.
Focus on Quality: Ensure that your designs are high-resolution and suitable for different print sizes. Pay attention to details and aim for a professional finish.
Copyright and Trademark Considerations: Familiarize yourself with intellectual property laws and avoid infringing on copyrights or trademarks. Create original designs or seek appropriate licenses and permissions.
Selecting and Managing Print on Demand Suppliers
Choosing the right Print on Demand suppliers is crucial for maintaining product quality and timely order fulfillment. Consider the following factors when selecting and managing suppliers:
Supplier Selection: Research and compare different POD suppliers based on their reputation, printing capabilities, product range, shipping options, and customer reviews.
Quality Control: Request sample products from potential suppliers to assess their printing quality and product durability. Ensure that the supplier maintains consistency in printing standards.
Communication and Support: Establish clear communication channels with your suppliers. Promptly address any concerns or issues regarding order fulfillment, product quality, or shipping.
Inventory Management: Since POD eliminates the need for inventory storage, focus on managing your designs and product listings effectively on the chosen platform.
Setting Up and Optimizing Your Print on Demand Store
Creating an enticing and user-friendly online store is vital for attracting and retaining customers. Consider the following tips to optimize your Print on Demand store:
Choose the Right E-commerce Platform: Select an e-commerce platform that integrates smoothly with your Print on Demand platform. Consider factors such as ease of use, customization options, and SEO capabilities.
Design and Branding: Create a visually appealing and cohesive store design that reflects your brand identity. Use high-quality product images and engaging product descriptions.
Mobile Optimization: Ensure that your store is mobile-friendly and responsive. Optimize the layout and design to provide an excellent browsing and shopping experience on different devices.
Search Engine Optimization (SEO): Implement SEO best practices to improve your store's visibility on search engines. Use relevant keywords, meta tags, and optimize product descriptions.
Marketing and Promoting Print on Demand Products
Marketing and promotion play a crucial role in driving traffic to your Print on Demand store and increasing sales. Consider the following strategies to effectively market your products:
Social Media Marketing: Leverage popular social media platforms to showcase your products, engage with your audience, and build a community around your brand.
Influencer Collaborations: Partner with influencers or bloggers who align with your target audience to promote your products. Seek collaborations for product reviews, giveaways, or sponsored content.
Content Marketing: Create valuable and informative content related to your niche. Write blog posts, create videos, or host webinars to establish yourself as an authority in your industry.
Email Marketing: Build an email list of interested customers and send regular updates, exclusive offers, and personalized recommendations to nurture relationships and drive repeat sales.
Sales, Pricing, and Profitability in Print on Demand
Setting the right prices for your Print on Demand products and maximizing profitability are crucial for long-term success. Consider the following strategies:
Competitive Pricing: Research the pricing of similar products in your niche and set competitive prices. Take into account your production costs, profit margins, and perceived value of your products.
Upselling and Cross-selling: Implement upselling and cross-selling techniques to increase the average order value. Offer related products, bundles, or personalized recommendations during the checkout process.
Managing Inventory and Fulfillment: Since POD eliminates the need for physical inventory, focus on timely order fulfillment and efficient shipping processes. Regularly communicate with your suppliers to ensure smooth operations.
International Sales and Shipping Considerations
Expanding your Print on Demand business globally opens up new opportunities for growth. Consider the following factors when selling internationally:
Shipping Options: Research and offer reliable shipping options that cater to international customers. Consider factors such as delivery times, tracking, and cost-effectiveness.
Customs and Import Regulations: Familiarize yourself with the customs regulations of different countries. Ensure proper documentation and comply with any import restrictions or taxes.
Localized Marketing and Localization: Adapt your marketing strategies to target specific international markets. Translate your store, product descriptions, and marketing materials into the local language when necessary.
Print on Demand Platforms: A Comparison
Choosing the right Print on Demand platform is crucial for the success of your business. Here's a comparison of some popular platforms to help you make an informed decision:
Printful: Known for its extensive product catalog and seamless integration with major e-commerce platforms like Shopify and WooCommerce, Printful offers high-quality printing and fulfillment services.
Printify: With a vast network of printing partners worldwide, Printify provides a wide range of product options and competitive pricing. It offers integration with multiple e-commerce platforms and a user-friendly interface.
Gooten: Gooten focuses on print and fulfillment services, offering a diverse range of customizable products. It provides integration with various e-commerce platforms and emphasizes excellent customer support.
Redbubble: Redbubble is a marketplace that allows artists to showcase and sell their designs on a wide range of products. It offers a global audience and handles production, shipping, and customer service.
SPOD (Spreadshirt Print on Demand): SPOD offers a user-friendly interface and fast turnaround times. It specializes in apparel printing and provides integration with popular e-commerce platforms.
Teespring: Teespring is a platform that focuses on custom apparel, including t-shirts, hoodies, and accessories. It offers a user-friendly design tool and features like crowdfunding campaigns and global shipping.
Zazzle: Zazzle is a Print on Demand marketplace that allows individuals to create and sell custom products. It offers a wide range of products and customization options, along with a large customer base.
When selecting a Print on Demand platform, consider factors such as product range, printing quality, integration options, pricing, customer support, and user experience. Choose the platform that best aligns with your business goals and target audience.
Scaling and Growing Your Print on Demand Business
As your Print on Demand business gains traction, it's essential to focus on scaling and growth. Consider the following strategies to expand your business:
Product Diversification: Introduce new product lines or variations to cater to different customer preferences and expand your target audience.
Partnerships and Collaborations: Explore collaborations with other businesses, artists, or influencers to expand your reach and tap into new markets.
Investing in Marketing: Allocate resources to strategic marketing campaigns, such as paid advertising or influencer collaborations, to drive targeted traffic and increase sales.
Continuous Improvement: Regularly analyze your sales data, customer feedback, and market trends to identify areas for improvement. Stay updated with industry developments and adapt accordingly.
Legal and Intellectual Property Considerations
Navigating the legal aspects of Print on Demand is crucial for protecting your business and maintaining ethical practices. Consider the following legal considerations:
Intellectual Property Rights: Ensure that your designs do not infringe on copyrights or trademarks. Create original designs or obtain appropriate licenses and permissions.
Design Ownership: Understand the terms and conditions of your chosen Print on Demand platform regarding design ownership. Retain ownership of your designs and ensure they are protected.
Privacy and Data Protection: Comply with data protection regulations and establish clear policies on how customer data is collected, stored, and used.
Common Challenges and Troubleshooting in Print on Demand
Running a Print on Demand business comes with its own set of challenges. Here are some common challenges and troubleshooting tips:
Order Fulfillment Issues: Promptly address any issues related to order fulfillment, such as delays, damaged products, or incorrect shipments. Maintain open communication with your suppliers to resolve these problems efficiently.
Customer Service: Provide excellent customer service by promptly responding to inquiries, addressing concerns, and offering solutions to ensure a positive customer experience.
Managing Returns and Refunds: Establish clear policies for returns and refunds. Handle these processes professionally and promptly to maintain customer satisfaction.
Conclusion
Embarking on a Print on Demand journey can be an exciting and fulfilling experience. By following the steps and strategies outlined in this comprehensive guide, you'll be equipped with the knowledge and insights needed to succeed in the world of Print on Demand. Remember, building a successful business requires dedication, continuous learning, and adaptability. So, go ahead and unleash your creativity, connect with your audience, and turn your ideas into reality with Print on Demand!